Abrasive Blasting Equipment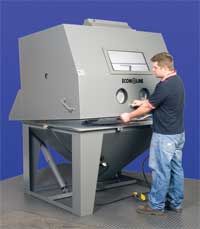 Econoline Blast Cabinet
Econoline Abrasive Products is the leader in sandblasting equipment, abrasive blast equipment, blast cabinets, and sandblast dust collectors to individuals and industry throughout the world. For over 30 years, Econoline has been the preeminent supplier of dependable, well built sandblast equipment at reasonable prices. Every product design includes emphasis on safety and user convenience. As a top rated service provider, we can meet your most challenging requirements. If you have questions about our abrasive blasting equipment products, please contact us. We look forward to working with you!
Abrasive blasting is valuable as an efficient, high quality method of surface penetration. Blasting is also used for other purposes beyond surface preparation, such as removing microscopic machining burrs from engine parts, etching glass, carving of names and designs in wood and stone or surface hardening of manufactured parts.
Econoline Sandblast Equipment Features
Full width openings
Shielded fluorescent lighting
Air safety switches
Air regulators
Long lasting tungsten carbide gun nozzles and air jets
Wide variety of stock cabinet sizes with design options
Custom fabricated special systems
Portable equipment
Comprehensive line of replacement parts and accessories
What is Abrasive Blasting?
Abrasive blasting is valuable as an efficient, high quality method of surface penetration. No other method of metal cleaning allows better control of the surface preparation or cleans the surface as thoroughly. By beginning with a screened abrasive, you control and obtain a consistent profile on the targeted surface. This clean, etched surface aids in adhesion and allows the coating to lock onto the surface.
As an industry leader, Econoline guarantees its sand blast cabinets against defects in material and workmanship for a period of 5 years from the date of purchase.
Ready to browse our abrasive blasting equipment? Contact Us today to see how we can improve the efficiency of your operation with our high quality products.