Sandblast Cabinet Direct Pressure Systems
Pressure Systems utilize a pressure pot that incinerates the media from the pot through the blast hose, to the nozzle. A direct pressure unit has the same amount of pressure in the pressure pot vessel. Passing through the air line, it connects to the outlet of the abrasive metering valve.
Sometimes direct pressure systems are referred to as gravity fed or equal pressure units. Why is this? While the abrasive "free flows" into the air stream, the operator can better control or direct the blasting process at both low and high pressures.
In most applications, work can be done four times faster than with a siphon sandblast cabinet as the abrasive is delivered at a much higher velocity.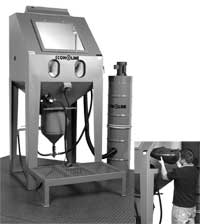 Econoline's WD 40 X 38 sandblast cabinet features a raised steel work platform for the operator and a large window for easy project viewing. Oval armports hold standard rubber cotton-lined work gloves. Other standard features include regulator and gauge, fluorescent lighting, a 14 and 11 gauge welded steel cabinet, tungsten carbide nozzle, moisture filter, media regulator, ½" internal diameter abrasive hose, foot pedal operation, 150 CFM dust collector and 10-120 PSI ASME code pressure pot with a media capacity of 1 cubic foot.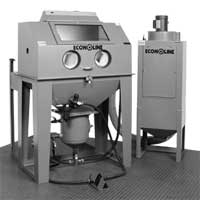 The WD 42 X 24 FT direct pressure sandblast cabinet delivers abrasive at higher velocity than a siphon system in order to maximize your production rates. The Clam Shell opening allows easy access to projects and includes a standard 400 CFM dust collector. The foot pedal operated 1/8" ID tungsten carbide nozzle permits easy operation and control. Other optional equipment includes a dust blow off gun, tumble basket, turntable and more.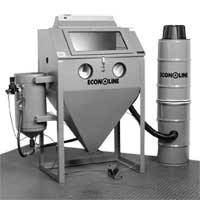 A state-of-the-art pressure pot dry sandblast cabinet system designed for the high volume shop seeking excellent control for blasting applications. Featuring a side mounted pressure pot for easy operation, holds up to 110 pounds of blasting media for long, uninterrupted blasting. Wide front and side door allow for quick, easy placement and removal of objects. A convenient pressure control gauge and foot operated 25 CFM tungsten carbide blast nozzle reduce fatigue for the operator ready to get the job done. Unit includes a 100 CFM dust collector.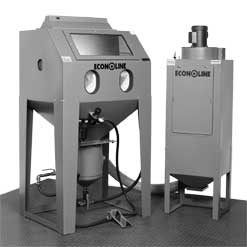 The WD 36 X 30 sandblast cabinet from Econoline has a standard 400 CFM dust collector and ASME code pressure vessel. Other standard features include oval armports, foot pedal operation and a tungsten carbide nozzle.